Web Presence

(Horror/Suspence)
(Created by Alexander Verdova)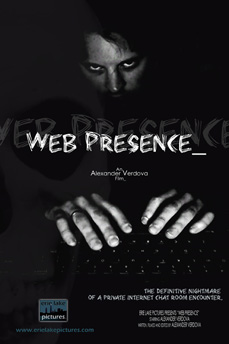 DESCRIPTION:
"Web Presence" (Plot): "Web Presence" is a short horror / suspense film about a young girl being lured into a face-to-face meeting with a supposed web-crush who calls himself "mrfriendly". The film portrays the definitive nightmare of a misleading private Internet chat room encounter.
Genre: Horror/Suspense
Tagline: The definitive nightmare of a private internet chat room encounter.

CAST:
"mrfriendly": Alexander Verdova
PRODUCTION OVERVIEW:
Created & Edited By: Alexander Verdova
Music: Kevin MacLeod
Location(s): Lakewood, OH
Format: DV, color/black & white