About

Erie Lake Pictures
(Creative Film & Video Production)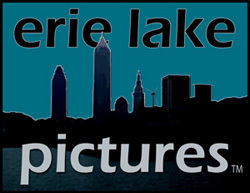 Erie Lake Pictures (ELP) is a creative film production company in Cleveland, Ohio. Created in 2006 by independent artist and filmmaker Alexander Verdova, its mission is the inspiration and creation of short films and documentaries.
ELP's most recent creative productions include "Gone Batsy" (Comedy) a short film about a troubled husband who's convinced his wife is actually Batman, "Web Presence" (Horror/suspense) about a private Internet chat room encounter between an innocent young girl and a ominous web stalker, "Prey For Me" (Fantasy/suspense) regarding a court clerk who is infatuated with the mysterious tracks of a serial killer, and award-winning "Returning Princess Mara" (Fantasy/comedy) a short film about four dungeons and dragons type gamers/role players who get lost in their gaming fantasies while being constantly interrupted with real-world distractions.
ELP produced two films for Cleveland's 48 Hour Film Festival in 2008 and 2009, both of which premiered at the Cedar Lee Theatre in Cleveland. ELP's 2008 48 Hour Film, "Returning Princess Mara", took home the award for Best Costume Design. The short film starring Jocelyn Wrzosek (Hero Tomorrow), John Galbraith, Matthew Craven, Ben Stewart, Susie McGarry and Stephanie Ford amongst many others, included a lost princess, a fire-breathing mage, knights, thieves, dark elves and menacing sirens.
Thank you for visiting the Erie Lake Pictures website! ELP can also be found on YouTube, Twitter, Facebook and Myspace.
Erie Lake Pictures Twitter Feed: